Death Valley National Park is home to an oasis in the middle of the driest, hottest, lowest spot in the United States. The historic Inn at Death Valley hotel was originally built in 1927. It was the headquarters for 20 Mule Team Borax and a hideout for Hollywood stars seeking tranquility. A $100 Million Renovation has just been completed. The Inn Dining Room at the Inn at Death Valley serves the hotel guests, those camping or hiking the Park, those driving through or staying at the nearby Ranch at Death Valley. The Inn's gardens and date groves supply foods and regional tastes. Many meals incorporate local dates, cactus, citrus, and pomegranate.
Location: Inside the Oasis Inn at Death Valley, 328 Greenland Blvd, California Route 190, Death Valley
Menu: For breakfast, egg dishes with Southwestern complements highlight the more standard fare. At lunch the menu is burgers and salads, along with specials, such as Mahi Mahi Tacos, Jambalaya Pasta and Chicken Tinga Tostados. Dinner items include Mahi Mahi and Salmon, along with Wagyu Beef,  Oscar Filet Mignon, Lamb, Veal, Chicken, Pork and a Jambalaya along with vegetarian options.
Thoughts: The Inn Dining room was completely renovated in 2018. The tile floors and wooden carved furniture provide an out-west atmosphere. There are jaw-dropping views of the desert salt pans and the majestic Panamint Mountains from most tables. Seating on the Inn Terrace, when weather permits, also gives unobstructed views of the Park. In the evenings, you can enjoy spectacular sunsets and dark skies with evening stars. The ambiance created encourages lingering over your food and appreciating the awe-inspiring location.
We delighted in the breakfast choices. My three-egg omelet was stuffed with Applewood bacon, spinach, mushrooms, and cheddar cheese and also had Cheddar Cheese melted over the top of it.
My husband opted for the huevos rancheros verdes, an authentic southwestern breakfast of perfectly prepared easy over eggs with black beans, cheddar cheese, and avocado on a corn tortilla topped with chile verde.
The date bread made from the fruit of the date grove we could see out the window was moist and memorable. Delectable, fresh berries sweetened the meal.
The servers were attentive and friendly and eager to share about Death Valley. It was 121° on the June afternoon we were there, so having a cool, comfortable place to just relax was something we were grateful for.
You won't be disappointed in the lunch and dinner meals that expand on the local and Southwestern theme and promise to tickle your tastebuds. This is a place to unwind and appreciate the grandeur of nature while feeding your senses and hunger.
Price Range: Breakfast starts at $14, Lunch at $8, and dinner at $10.
Pin This!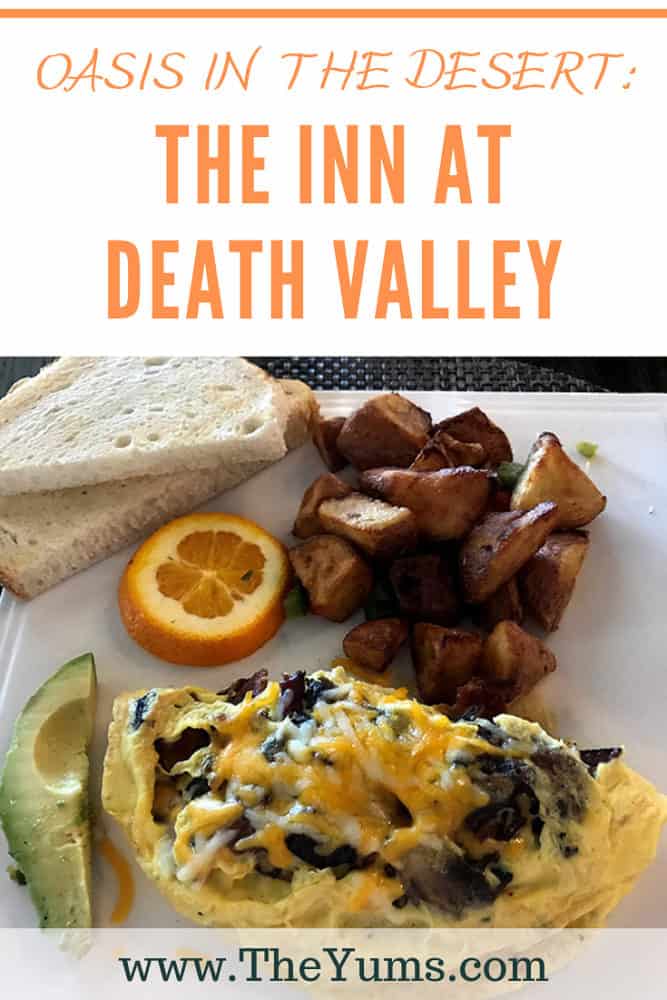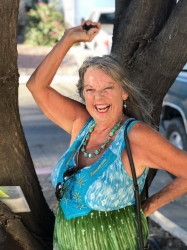 Latest posts by Joeann Fossland
(see all)