We had just had a terrific day tour outside Reykjavik, Iceland and were walking back to our hotel from the bus stop. Feeling rather exhausted we decided we would just pop into the food court for a quick meal. We stopped at the Hlemmur Food Hall.
It didn't take us long to realize that this was no ordinary food court. This was something special! Built in a converted derelict bus station about two years ago, the building now holds nine gourmet food stalls – each a mini restaurant in their own right, plus a bakery. After perusing all the menus we decided on Kröst.
Location: Hlemmur Food Hall, Laugavegur 107, 105 Reykjavík, Iceland
Menu: Described as a Grill and Wine Bar, the menu is divided into three main sections: hamburgers, small plates, and mains.
All ingredients are locally sourced except the duck which is not produced anywhere in Iceland. Sensibly, they do not serve chicken which is served by other restaurants in the complex.
Each dish has a recommended wine pairing. Do you fancy champagne with your burger?
All meals are cooked in their tiny open kitchen on a Josper wood grill-oven
fueled by wood imported from Portugal. This seemed like an incredible extravagance, however, our chatty waiter, Sebastian, reminded us that there are virtually no trees to use in Iceland. The Vikings felled most of the native trees when they first settled in Iceland late in the 9th century for heating, housing, and shipbuilding. The trees have not regenerated.
Thoughts: We chose three small plates to share: Grilled White Mould Cheese, which tasted similar to Haloumi but was more melted and creamy. It was served with chili honey and gluten-free "home-made" crackers that had a nutty flavor that complemented the hot cheese.
Grilled Cabbage with Cheddar was our second choice. Served with cauliflower mash and lots of cashews giving the dish some crunch.
Garlic Potato Balls with Aolie was our third choice. These were delicious and seemed to be a signature dish of Kröst as they were also served as a side with some of the other dishes.
Although many of the other mini restaurants used the communal seating like a normal food court, Kröst served their meals at their bar with high bar stools that wrapped around the three open sides. This gave us the chance to chat with Sebastian who enthusiastically told us about food in Iceland.
Sebastian greeted us like old friends when we returned the second night. Confident in our choice of restaurant and, having worked up an appetite swimming in a thermal pool at the Secret Lagoon, we went straight to the mains, choosing two mains to share.
Iceland is renowned for its fresh fish. Our choice of Grilled North Atlantic Cod was one of two locally caught fish dishes offered. The other was Grilled Salmon. The cod was served with crispy potatoes, caramelized cauliflower puree, and a tangy lemon sauce.
Our second main was Grilled Lamb Ribeye. This is where the Josper wood grill oven really stood out. The aromatic smokiness in the lamb was subtle but delicious. It was served with a thick mushroom sauce and the garlic potatoes we had enjoyed the night before. The crispy kale was so crisp you had to pick it up in your fingers or it crumbled under your fork.
Both main courses had generous servings and were freshly cooked in front of us.
Kröst has three Icelandic draught beers on tap. Pale Ale, Viking, and Einstock White Ale. Iceland does not have the ideal climate for growing the hops and barley required for making beer. What they do have, however, is an endless supply of pure, fresh, water that has been filtered by nature over a period of thirty or forty years as it percolates through porous volcanic rock. This is used in Iceland by their many boutique breweries.
We are going back to Iceland again next year and look forward to trying many new restaurants, but Kröst will definitely be on our repeat list.
Price Range: Hamburgers: 2490 IKR (about $21), small plates 650-1450 IKR (about $5-12), and main plates 2890-4400 IKR (about $24-36).
Pin this for your Iceland travel planning boards!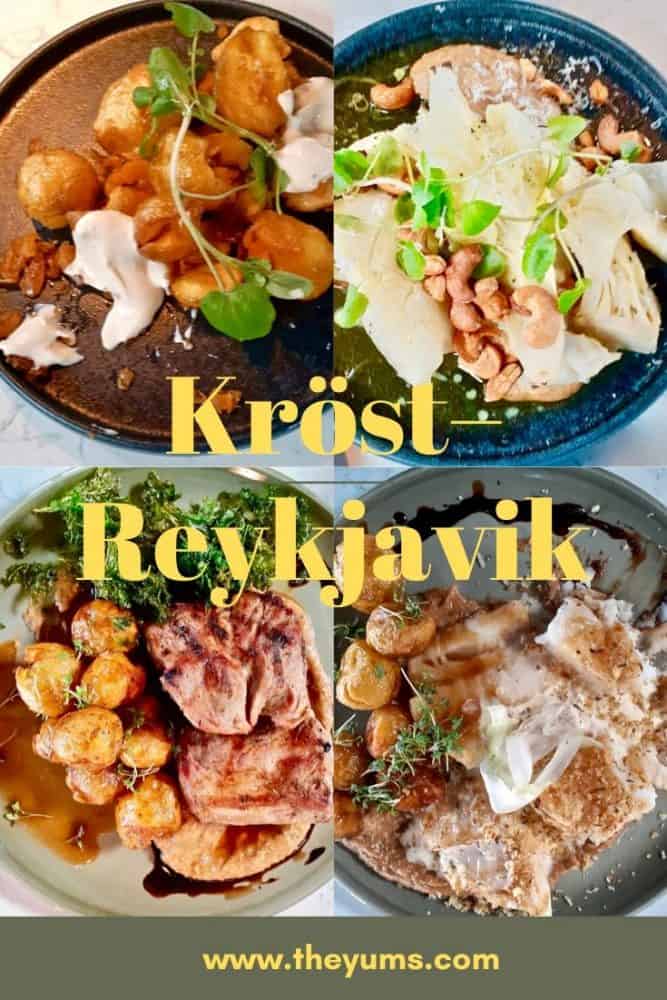 Guest Reviewer Bio: Kerrie-Anne Riles is an Australian freelance travel writer currently living in Peru. She has lived in seven different countries and travels extensively. Her travel writing includes traveling to unusual places and quirky travel experiences, luxury travel especially cruising and train trips, and gluten-free cooking and restaurants. You can follow her on Facebook.

Latest posts by Guest Contributor
(see all)