Slick's Ivy Stone restaurant takes you back to a time when things were simple and home-cooking was the norm.  From the moment you enter you are stepping back to a different era.  
Antiques decorate the waiting room. An old time candy counter is near the checkout area. The smell of home-cooked food permeates the air. You can't help but feel you have been transported back in time. But just wait till you taste the food!
Location: Nine miles from the Pennsylvania Turnpike, Slick's Ivy Stone is nestled in the foothills of the Alleghany Mountains at 8785 William Penn Road, Osterburg, Pennsylvania, in historic Bedford County.
Menu: All food is homecooked. They have a large menu with lots of expected items and many specialty items from the local area. One special on the menu every day is the "Talk of Osterburg." It is an 8 oz. grilled ground Black Angus sirloin with grilled onions, bell peppers, and mushrooms, topped with mozzarella cheese.
The lunch menu includes sandwiches and entrees that include crabcakes, hot turkey sandwiches. salads, and more. They also have "All You Can Eat" daily features for lunch and dinner.
Family Style meals are offered and they include "all you can eat" of 1 to 3 selections of meat, served with: soup or salad, rolls, mashed potatoes, two vegetables of the day, bread Stuffing, waffles & gravy. Just like eating at grandma's house. The choice of meats for family style meals are roast turkey, honey baked ham, fried chicken, and baked Swiss steak.
The desserts are fabulous and include bumbleberry, pecan, peanut butter, and coconut meringue pies. Carrot cake, cheesecake with toppings, chocolate delight cake and lemon paradise cake along with various ice cream delights round out the dessert menu. Whole pies can also be purchased to take home with you.
NOTE: Slick's Ivy Stone is a non-alcoholic beverage restaurant.
Thoughts: Currently the Ivy Stone is celebrating its 40th birthday. As you enter the restaurant, you are greeted with a bulletin board showcasing the changes over 40 years.
The large waiting area is full of things from yesteryear. Antique signs, dishes, typewriters, quilts and other items that transcend you back many years. The smell of food cooking is mouthwatering.
There are five dining rooms, with seating for up to 240 guests. Each room is decorated with a different motif from days gone by. Old antique framed pictures hang on the walls.
Slick's Ivy Stone is known as a place to bring the family, share your memories of the past, and enjoy a delectable homemade meal served by quaintly attired servers. The restaurant was one of my dad's favorites because of the home-cooking. It reminded him of his mom's cooking when he was a child. All meals are homemade with fresh local ingredients when possible.
Once you are escorted to your table and your order is taken, servers dressed in authentic colonial dress bring homemade rolls and raisin bread to your table.
I ordered the Jack Daniels Chops. The meal consisted of two boneless center cut pork loin chops broiled with a tasty homemade bourbon glaze. The chops were served with soup, baked potato, steamed broccoli, carrots, and included a piece of luscious coconut cream pie for dessert.
My husband had the succulent roast turkey. It was served with a vegetable, creamy mashed potatoes, savory bread stuffing, a waffle, and gravy.
Make sure you are hungry when you visit Slick's Ivy Stone. Servings are substantial and they happily provide containers to take leftovers home.
Additional Notes:  Closed on Mondays. This restaurant does not serve alcohol. 
Price Range:  Lunch sandwiches start at $4.99. Dinner entrees range from $12.99–21.99. Desserts range from $2.99–4.99. Family style meals are "all you can eat" your choice of one to three meats $20.99-24.99 per person.
For Pinterest: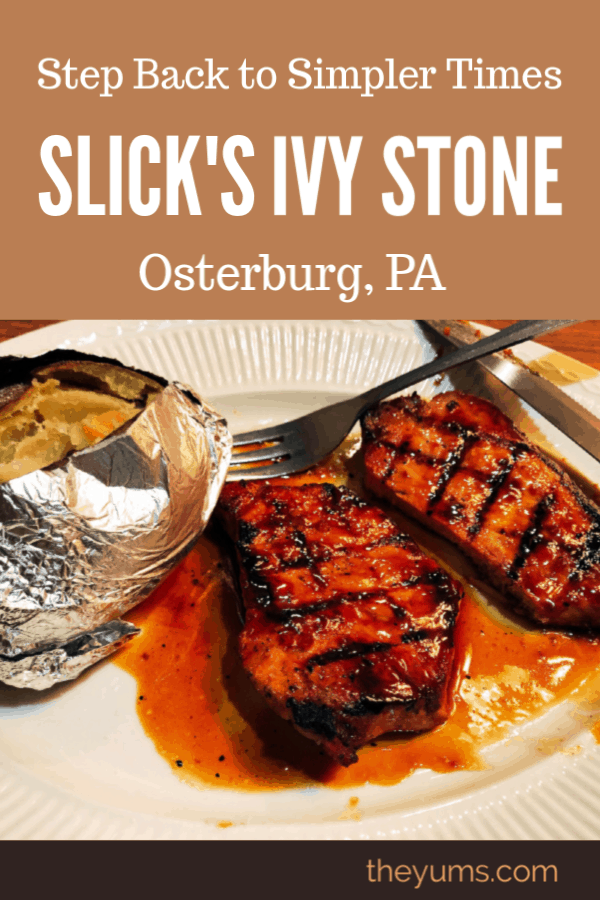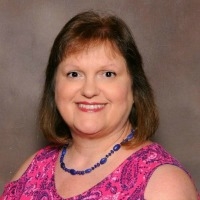 Latest posts by Robin Smith
(see all)