Billed as "Preskit's Quirky Cozy Friendly Place to Meet" – that pretty much sums up the vibe at El Gato Azul, but it leaves out the joy of the unexpected exotic cuisine.
Location: 316 W Goodwin Street, Prescott, Arizona. Website here
Menu:  The Southwestern and Spanish Mediterranean influences permeate the menu from entrees to tapas. You'd expect tasty Southwestern food in Arizona but probably not combined with Spanish Mediterranean food, yet the two come together on an eclectic menu at El Gato Azul. It turns out to be an incredible combination that transcends expectations.
Just the names of the couple dozen lunch and dinner meals give you the sense of creativity and variety you have to choose from. Fig and Arugula Pizza, Paella Valencia, or Chipotle BBQ Ribs and even Jammin' Tri-Tip and Mac all offer tastes unexpected, especially in a small town.
The tapas menu features 12 seafood, 23 vegetarian, 11 beef and pork and 7 chicken selections. Truly something for everyone, even picky eaters.
A two-page wine, cocktail, and craft beer menu will provide a libation that suits you.
Thoughts: This brightly painted house is a couple of blocks away from the more touristy Whiskey Row and the Courthouse Square area of Prescott. On a recommendation from a friend, we stumbled into El Gato Azul. Celebrating fifteen years in Prescott, it has become popular with both the locals and visitors. 
It's become so popular that I recommend reservations because the seating is limited. Inside, there are just a few tables by the bar. The outdoor patio and riverside seating expand the seating, with closely packed small tables. In summer, these areas are all open with views of the river. When it turns chillier or snowy outside, thick plastic curtains and heaters bring comfort and, surprisingly, work quite well.
We showed up during their popular Happy Hour and were seated on the outdoor patio. It was five o'clock and nearly every table was taken. Our cocktail order was taken almost immediately and, as we sipped our margaritas, we struggled to narrow down our choices from the 60+ tapas plates. Finally, we decided on three tapas each.
The waiter commented we were going to have a feast—and that we did!
The tapas were served as the kitchen plated them, rather than all at once. The two-top we were seated at was small, so this worked well, allowing us to reduce the number of plates before the next arrived.
My husband, Bub, ordered Buffalo Fried Oysters. Three very large breaded and fried oysters on a bed of spinach were covered with a tangy, hot buffalo sauce. He felt the sauce overpowered the oyster taste and said next time he'd ask them to be served without the sauce.
He was delighted, though, with the two large Chorizo Meatballs, smothered with a parmesan au gratin and accompanied by four slices of a baguette. It's hard to find chorizo that isn't greasy, but this wasn't. The sauce was a perfect creamy topping. This item alone could have sufficed for dinner.
We had expected the Papas con Queso to be cheese french fries, but, instead, tender slices of potatoes were topped generously with Cheddar, scallions and sour cream. It was a comfort food indulgence perfect for a chilly day.
My two crab cakes were, perhaps, the best I have ever had (and I grew up on the Chesapeake Bay!). The light panko coating was lemon and herb-infused giving the deliciously prepared crab just the right counterbalance without overpowering it.
My three Beef and Blue Tacos combined chunks of flank steak with pickled onions, lots of bleu cheese and a red chimichurri sauce on corn tortillas for an unusual but delectable treat.
Wanting a good green tapa, I had a hard time deciding between the Fried Avocado or Fried Artichoke. While there are some healthy choices, I realize neither of these really fit the bill. I choose the fried avocado, which was served on a bed of spinach with chips and red pepper aioli. I would have preferred slices of avocado instead of having the entire half avocado fried. While satisfying, this wasn't a favorite.
Before we left, I overheard the waiter telling the table next to us that he recommended two tapas per person and then, of course, everyone should share. We would have left quite satisfied if we had done that, however, the six we indulged on gave us fun variety and a take-home box!
I'd love to live here and eat my way through the entire tapas menu.
Price Range: Everything is reasonably priced. Lunch salads are $12 or one of the many filled wraps or croissants will run $10-13. Dinner choices start with the $10 Pizza and $11 Tacos and $16-24 for a full meal. Tapas $6-13.
The drink menu is extensive and reasonably priced. Daily Happy Hour prices are $2 off the tapas, $5 Margaritas or Sangria, and $1 off wines and beers.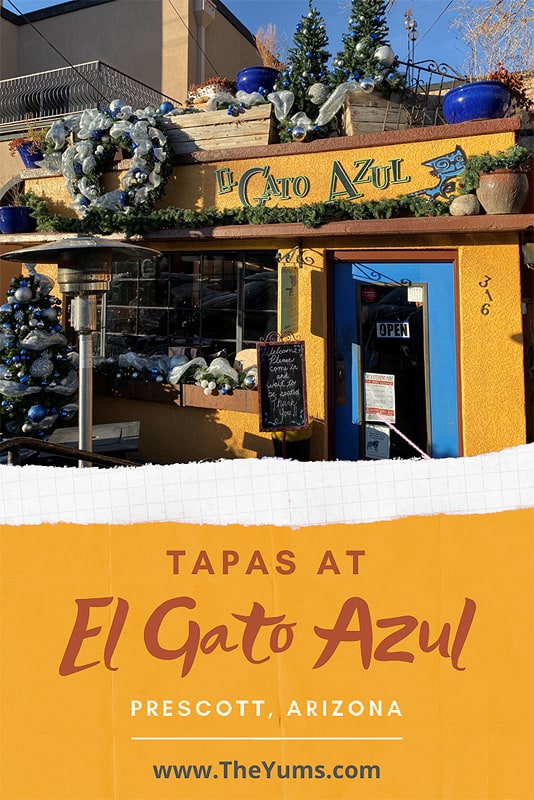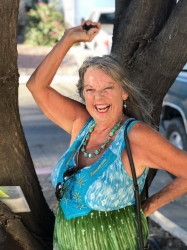 Latest posts by Joeann Fossland
(see all)