Get a head start on the weekend with Thursday night jazz and seafood at The Black Marlin, housed in the historic Tustin Garage. Music and a fairyland of light-wrapped trees lure you down the streets of Old Town Tustin, California, to a modern dining and entertainment destination in the City of Trees.
The Tustin Garage first opened in 1915 and gave their customers the full treatment. In addition to gasoline, motorists received a mini service on their vehicles, including windshield cleaning. That service prevails today at The Black Marlin as they strive to make your visit memorable and surpass your expectations for good food and entertainment.
Location: The Black Marlin is located in the historic Tustin Garage at 560 El Camino Real, Old Town Tustin, California.
Menu: The Black Marlin is known for its seafood. While the Thursday night special of pork ribs was quite tempting, this was my first visit so I thought I should try their specialty. The waitress suggested the scallops and shrimp, their signature dish, as well as the clam chowder. Those selections did not disappoint.
The Double Clam Chowder was dense with clams and very flavorful. A generous portion of fried calamari, ordered as an appetizer and shared by all at our table, was accompanied by a mild dipping sauce and a spicy cocktail sauce.
A featured appetizer is the Rockefeller style chilled oysters on the half shell by the half dozen. You can also get fried oysters and oyster shots.
Chef Specialties on the dinner menu like Pork Belly Brussel Sprouts and Blackened Rock Shrimp Risotto are lower-cost menu items that are sharable for two.
Gently seared on the outside, served on a bed of sautéed spinach and cranberry goat cheese polenta, the two jumbo scallops and two giant shrimp I ordered were extraordinary. I've never eaten such outsized seafood. This is a Marlin Seafood Specialty.
Seafood & House Specialties include a salmon filet, ahi, trout, two different kinds of pasta, baby back ribs, steak, Surf N' Turf, and chicken.
The Brunch and Lunch menus offer the ubiquitous oysters, and a wide range of omelets, sandwiches, soups and fresh salads. Another option is the Chef's Prix Fixe which is a three-course meal created by the chef, using the freshest ingredients.
Gluten-free brunch, lunch, and dinner menus offer many thoughtful and delicious options (gluten-free takes on the Specialties of the House) for those with food allergies. And, of course, the Rockefeller-style oysters are on these menus, too.
Desserts at The Black Marlin are not for the faint of heart. The Memphis Donut, for example, is a light and airy double-glazed donut which is caramelized on the griddle then served with ice cream and a berry sauce. Add a couple of crème brûlée options, a warm chocolate layer cake, or a key lime pie, and you could be in sugar heaven.
Hand-crafted cocktails have themes from dogs to mules and international themes from Ireland, Hawaii, and Havana. There is an extensive list of beers and wines by the glass or bottle. For a corkage fee (free on Mondays) and purchase of an entree, you can bring your own wine (if it's not offered at The Black Marlin).
Live entertainment is also on the menu at The Black Marlin. During a month you can plan your visit around the performances. All are listed on the website. Whether it's jazz on Thursdays, solo performers or bands, the live sets create a festive atmosphere for date night, groups of friends, and even for seniors.
Events include Magic Mondays, featuring award-winning magicians from around the world, creating their magic tableside. Tito's Tuesdays offer Tito's vodka drinks all day at a special price while you create your own Shrimp Cocktail. There are discounts on Wine & Whiskey Wednesdays. Holidays showcase special brunch and dinner menus with live music.
Thoughts: The Black Marlin appeals to a wide-ranging age demographic. It was clearly date night for the twenty-somethings at the next table. My group of friends ranged from young executives to small business owners and aged from 35 to 64. Several tables of senior citizens were clearly enjoying the entertainment as they wrapped up their Senior Hours dining.
Kids have their own menu with all the standards that a child could want when eating out.
For Seniors, available Monday through Friday from 3 to 6 pm, there are five items and a wine special.
Happy Hour, Monday through Friday from 2 to 6 pm includes heavy appetizers and discounted well drinks and wine.
A nice touch was the lemons with stretch wraps. These wraps, used in top restaurants all over the world, keep the seeds and pulp out of the food when squeezing by hand. A definite plus with all the fish and seafood served here.
Service was friendly, prompt, and pleasant throughout the evening. It is a good idea to make reservations, even on a Thursday night, because of the popularity after hours.
Nearby street parking allows for a cozy promenade down the sidewalks after dark in the City of Trees.
Price Range: The Black Marlin is moderately priced with the dinner menu pricing covering the cost of entertainment.
Lunch appetizers, soups, and salads from $7 – $20; sandwiches and specialties from $13 to $22. Brunches from $8 to $18 and add cocktails from $9 to $15 or free-flowing champagne for $14. Dinner entrees range from $20 to $60 and Market Price.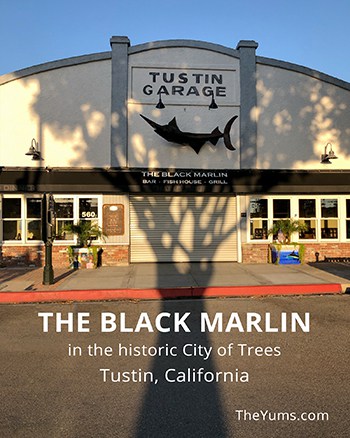 Latest posts by Julie Diebolt Price
(see all)