Steak so tender it melts in your mouth! The Butcher's Cut, aboard the MSC Preziosa and a few other MSC ships, is a meat lover's dream come true.  While the meat is the hero, other entries are delicious and the desserts are extraordinary.
Location:  The Butcher's Cut – Deck 7, MSC Preziosa, MSC Cruiseline.   Also available on other MSC ships. Website here.
Menu: Meat is front and center on the menu. Steak is the highlight in this restaurant. They offer a variety of cuts and all beef cuts are naturally raised certified American Angus beef and aged for 21- 28 days before cooking.
Other meats available are the New Zealand Rack of Lamb and the American Bison. All meats come with a choice of sauces and one side. They also serve various chicken and seafood entrees and feature an extensive wine and cocktail list. 
Thoughts:  If you have ever cruised, you know dining and food on the ship are a big deal.  While the main dining room food is solid, there are occasions when you want a special dinner or something a notch above the regular dining options.   The Butcher's Cut fills the bill.
On a recent Mediterranean cruise, aboard the MSC Preziosa, our party of seven was celebrating a birthday. We decided to forego the regular dining option which was included in our cruise, and opted for a steak dinner at The Butcher's Cut.
Upon entering we were greeted and seated at our reserved table. The ambiance in the American style steakhouse gave you the feeling that you were in an important place. The restaurant walls were brown and the tables for two, four or more were heavy brown wood with red placemats and leather chairs. An outline of a steer with various anatomically correct cuts of meat outlined is illuminated in red on one wall. Waiters in the restaurant wore brown aprons with the Butcher's Cut logo.
The restaurant was quiet and intimate with dimmed lights and candles on each table. A great place for a romantic evening or a quiet business luncheon.
They offer a variety of cuts including filet mignon, flat iron, NY sirloin, and rib-eye. The 38-ounce dry-aged tomahawk is for two the star of the menu. Guests have the option of ordering a la carte or selecting a three-course dining package that includes an appetizer, entree, and dessert.
We chose the three-course dining experience package. I selected the shrimp cocktail as my appetizer, Filet Mignon as my main entree with asparagus as the side dish. For dessert, I ordered the Chocolate lava cake.
The shrimp cocktail consisted of three jumbo shrimp served with both tarter and cocktail sauce. Others ordered the baked goat cheese with blueberry compote and bone marrow with caramelized onions and parsley. Once the appetizer was served, our waiter visited each place offering fresh ground pepper.
The 8 oz. Filet Mignon was served with juicy sautéed cherry tomatoes and sweet pickled onions. I had never tried pickled onions but fell in love with them. The tender seasoned asparagus was served on the side.
A chocolate lover's delight. the lava cake was a molten, bittersweet chocolate cake filled with a warm pudding served with vanilla bean ice cream. Both were drizzled with hot chocolate sauce.
New York Cheesecake with strawberries was enjoyed by several members of our group and they reported it to be divine. Another dessert guests raved about was the Banana Date Pudding with rum toffee sauce. It was served with banana ice cream and candied orange zest.
The waiters joined together to present a birthday cake to our table and sang Happy Birthday.
All food was served on or in white dishes that provided a pleasing contrast against the dark colors of the room, the red placemats, and the piping hot food.
We spent several hours enjoying our meal, celebrating and chatting, we were never rushed to leave.
The Butcher's Cut is a wonderful place to grab a romantic dinner or escape with friends for a quiet yet memorable meal aboard the busy cruise ship.
Additional thoughts: A surf add-on of your choice is available for all meat entrees.
While overall, the food in the main dining room on the ship was great. The beef in The Butcher's Cut was definitely a cut above and worth the extra money invested to celebrate a special event.
Cost: $39 for the 3-course meal or items can be purchased a la carte. A la carte entrees start at $23. The kid's menu is $12.
For Pinterest: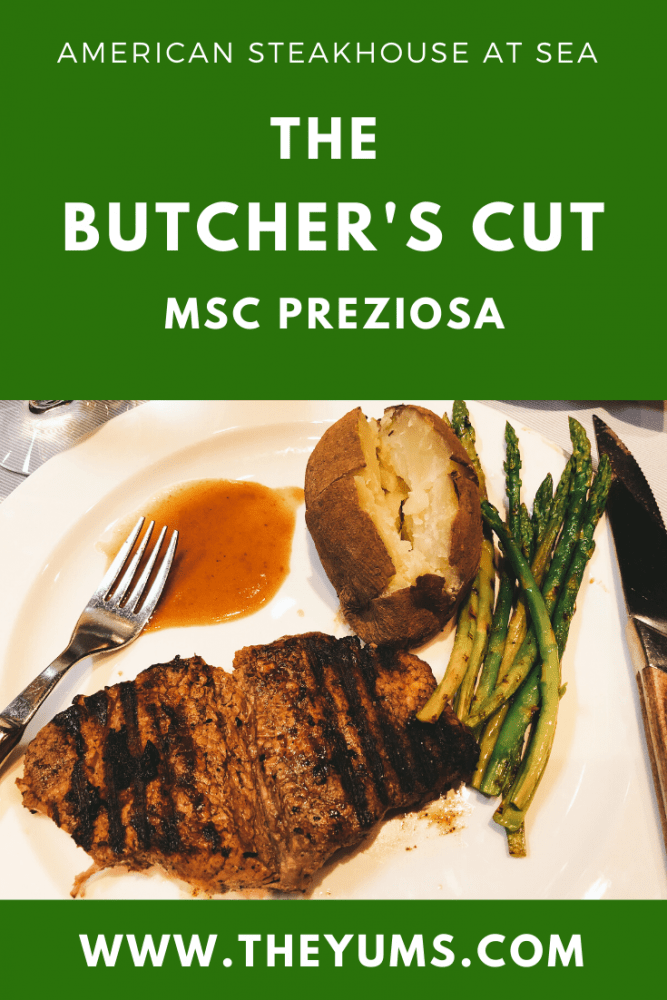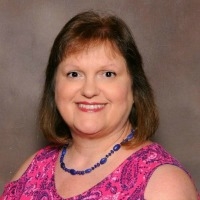 Latest posts by Robin Smith
(see all)