An unpretentious, but outstanding dining adventure awaits you off the beaten path in Red Lodge, Montana. Delectable snacks and small plates perfectly complement a glass of wine or beer at happy hour. Heartier fare such as a Montana steak or pork tenderloin will provide a filling lunch or dinner.
Whether you've just driven the 64 miles of harrowing switchbacks on Montana's famous Beartooth Highway from Carson City or come to ski, don't leave Red Lodge without enjoying the food and drinks at the PREROGATIvE Kitchen.
Location: 104 Broadway Ave S, Red Lodge, Montana. Website here.
Menu: Daily selections of smalls, salads, proteins, and sandwiches are á la carte. Some are a full meal, or you might order a few, like a tapas menu.
The food is American fare crafted to raise the bar on the ordinary. For instance, instead of catsup, the fresh fries are served with a tarragon aioli sauce. Items like goat cheese, plum chutney, and pickled or caramelized onions can be found on the lamb or risotto sliders.
There are many meals that will suit the needs of customers who have allergies or who want vegetarian and gluten-free choices.
Pair your meal with a nice glass of wine or craft beer from a broad selection.
Thoughts: It was a cold, rainy day when my husband and I arrived in Red Lodge. We had been told PREROGATIvE Kitchen was the best place to eat. So, we ducked in. The atmosphere and decorations are trendy and eclectic. The vibe is casual and friendly, belying any expectation of haute cuisine.
A spacious open area has a very large chalkboard menu mounted on the wall to the right and the counter to order to the left. Choose from today's offerings and place your order at the counter. A complete visual display and description of the wines and beer back the order area. A list of signature cocktails rounds out the alcoholic options.
Once you've placed your order, you'll be given your drinks. Then take the little stand with your number and pick the seat you want.
Tables and booths stretch to the back of the room, but there aren't that many and they fill quickly at lunch and dinner time. I was glad we were eating in the late afternoon when finding a seat was easy.
The busy kitchen area is open. The plates were delivered as they were prepared. The á la carte menu lends itself to different preparation times and everything may not be delivered at once. There was always someone close by watching to bring another beverage or anything else that might be needed.
Even though the atmosphere is simple and unpretentious, the preparation and execution of the meals are extraordinary. The small things make a big difference in a good restaurant and it is clear the owner/chefs take pride in delivering plates that look appetizing and offer tasty pairings.
My husband has a weakness for Buffalo Burgers. On a brioche bun, the juicy, medium-rare buffalo meat was topped with melted cheese, gooey, caramelized onions, pickles, and lettuce. The tarragon aioli sauce on the fries was garlicky without being overpowering. He was very happy. Our request for some additional sauce was taken care of immediately. I helped him gobble them up, though I think he could have taken care of it without needing any help.
I ordered the Cheese and the Meat Boards. The Cheese Board featured two generous chunks of Montana cheeses: a soft blue cheese and a sharp white cheddar. A flaky baguette was accompanied by a pile of spicy mustard, pickled onions, jam, and tarragon. From the Meat Board, I topped my baguette with Salami, Pheasant Terrine, and Pate. Mustard, olives, and pickles gave me an assortment of tastes to enjoy with my nice glass of red Shiraz wine.
If the fish and chips are available the day you go, you'll be in for a treat. The fish is a wild Alaskan cod. Coated with a beer batter made in-house with local Red Lodge Ales beer, the result is wonderfully light and flavorful. Coupled with the tarragon aioli fries, you'll have a meal that tastes like you are sitting on the dock of the bay. You wouldn't expect a meal like this in the mountains of Montana.
Make sure to leave room for the famous Sticky Toffee Pudding. Share it, if you must, but don't skip it! Caramelized date cake topped with more caramel and cream will satisfy any sweet tooth.
A couple of initiatives set PREROGATIvE Kitchen apart. Each month, they sponsor a different non-profit. To date, they have donated over $50,000 to mostly local non-profits. They also feel strongly about the environment and do their part in many ways—no straws, lots of recycling, use of bio-degradable takeaway containers and utensils and much more.
Price Range: Snacks, smalls, and salads are affordably priced and start at $5. Sandwiches and sliders are $10. The most expensive menu item the day we visited was Salmon at $16.
Your bill can start to add up if you are tempted by multiple selections. You also will find it easy for your eyes to be bigger than your tummy because the descriptions are very tempting. You can always go back for seconds.
Signature Cocktails are $8, Local Craft and other Beers $4.50-$10, and Thirty wines available by the Glass($6-$8), Carafe($16, or Bottle ($22-$80)
Come at Happy Hour for specials
By the time we enjoyed our wine, fed our hunger and relaxed, we were ready to venture back out onto the streets of Red Lodge. We will definitely come again.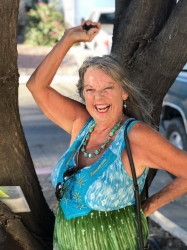 Latest posts by Joeann Fossland
(see all)