Some places are worth hunting for. Tucked away on the second floor of an office complex, 5 minutes from downtown Little Rock, Brave New Restaurant is cooking up fresh farm-to-table meals. With a riverfront view and a relaxed atmosphere, the elegantly prepared meals incorporate sauces and spices to delight your taste buds.
Location: On the 2nd Floor at 2300 Cottondale Lane, Little Rock, Arkansas
Menu: Award-winning Owner/Chef Peter Brave applies his creative skills to a broad selection of Contemporary American food and seafood. Additionally, delicious daily specials extend your choices, dependent on what's in-season and the whims of the chef.
A standard Lunch Menu is diverse with interesting combinations. The unusual sandwiches will surprise you. Who would think you could get a Lobster Roll in Arkansas? Or a Duck Sausage sandwich?
Lunch salads are a full meal. Choose salmon, shrimp, crab, tuna, or chicken club salad.
If you are hungrier, a hearty main course will fill you. Perhaps the lobster or roasted vegetable ravioli will interest you. Chef Brave concocts creamy, tangy sauces, such as pesto cream or lingonberry demi-glace, to accompany most of the main selections.
The Dinner Menu is similarly tempting. Starters like Baked Brie, Wild Mushroom Tart, and Crab Cakes will begin a scrumptious culinary romp. Ten main courses are creatively cooked and presented. For instance, The Mixed Grill serves up Pork Tenderloin, Beef Medallion, Stuffed Quail and Wild Game Sausage. Or, for lighter fare, order one three dinner salads.
For an unusually gourmet vegetarian dinner, try their Mushroom Wellington. Other Vegetarian and Gluten-free options are available all day.
The velvety Chocolate Cream Brulee is their signature dessert that even includes an edible flower. Each day a special dessert is available, equally decadent and worth the calories!
A wine menu and full bar are available to complete a perfect lunch or dinner.
Thoughts: We shared the patio space with several hummingbirds who were feasting on the bright pink flowers that wound around the open rails. Nine tables were set out here overlooking a lush green lawn and a view of the Arkansas River that was as delightful as the food.
Brave New Restaurant is not easy to find, but worth the sleuthing. Our Uber driver wasn't even sure he was dropping us at the right place, even though his GPS said we were there. Signage is practically non-existent.
[amalinkspro type="showcase" asin="076274894X" associate-id="theyums-20″ new-window="1″ addtocart="0″ nofollow="1″ sc-id="4″ imgs="LargeImage" link-imgs="false" stack-imgs="false" specs="" btn-color="#ff9900″ btn-text="View on Amazon" alignment="aligncenter" hide-prime="0″ hide-image="0″ hide-reviews="1″ hide-price="0″]Arkansas Curiosities: Quirky Characters, Roadside Oddities & Other Offbeat Stuff (Curiosities Series)[/amalinkspro]
A friend and I enjoyed a late lunch. A lover of comfort food, I couldn't resist the Non-Traditional Grilled Cheese Sandwich. Along with the Fontana and baby Swiss cheeses, this sandwich was stuffed with baby shrimp, fresh heirloom tomatoes and bacon. A Dijon-mayo sauce added a welcome piquant note to each bite. The grilled, whole grained bread gave heft to the sandwich making it easy to eat. Thin, homemade potato chips and fruit provided a filling meal.
My friend, on the recommendation of the waiter, ordered the Crab and Avocado Salad. Generous portions of large crab lumps and avocado, along with chopped grapefruit and sliced apples, topped a large plate of Bibb lettuce. A fresh red strawberry, grapes and an orange slice on the side were a colorful addition. A tart balsamic vinaigrette dressing was drizzled over all.
The main dining room has several dozen tables and was brightly lit from the windows facing the river. A small, well-stocked bar with six seats and a window to the kitchen are located at the end of the dining room, just outside the private dining area. There is ample room here for special events, parties and private dining.
In the evening, with dimmer lights, a more romantic feel pervades the main dining room.
Chef Brave is roasting the coffee for the restaurant and you can purchase this by the bag to take home.
Price Range: Lunch entrees and salads are generously portioned and affordably priced at $13-16. The Sandwiches range from $12 to $15. 
At Dinner, Starters are $12-15. The Main Courses are $29-44 and Dinner Salads are $27 for the Salmon Salad, $37 for Lobster Salad. A dessert will cost $6.50-9.00.
Brave New Restaurant is open for lunch and dinner during the week, for dinner only on Saturdays, and closed on Sundays.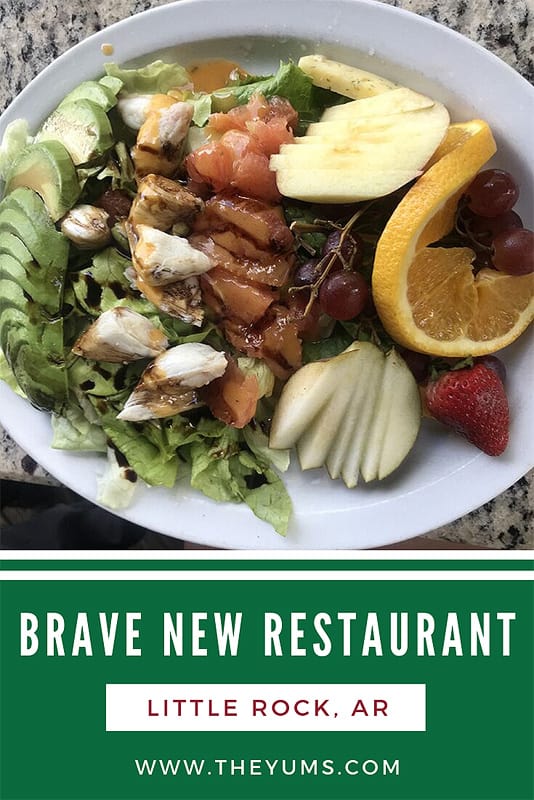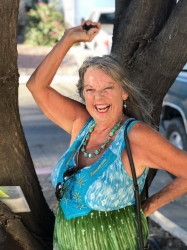 Latest posts by Joeann Fossland
(see all)