This classic Hawaiian restaurant in a historic bright blue building sets a tone that is fun, comfortable and lighthearted. Browse the art gallery and the gift shop and then feast on something fresh and local.
The charming little town of Hawi is just a few blocks long, 35 minutes north of the Waikoloa Beach resorts, and is home to one of the best restaurants on the island of Hawaii. It's worth the drive.
Location: 55-3415 Akoni Pule Hwy., Hawi, Hawaii website here
Menu: Hawaiian Island Style Cuisine fills the menu with creatively prepared dishes.
Lunch and dinner menus are expansive. There's a lineup of small plates, or "pupus" to start. From a basic burger or fish sandwich to salads, sandwiches, and entrees that incorporate spices and marinades of the island bounty, you are bound to find something tempting. The scrumptious, homemade desserts are worth saving room for. 
The Island drinks, some invented right here, use local ingredients like coconut and passion fruit. The Lilikoi (passion fruit) Margarita will remind you that you are in paradise. Or choose the passion-fruit iced tea.
Pineapples are a quintessential ingredient in many Hawaiian dishes. Learn how to pick out the best pineapple and try to replicate some of these dishes at home.
Thoughts: As you walk into Bamboo, the crafts, clothes, and gifts surround you. A stairway right ahead leads up to the art gallery. A greeter to the left will seat you in the restaurant when you are ready. The large, open room with wood floors and turquoise walls is filled with dozens of tables. Sparkly lights cover the ceiling and all sorts of retro memorabilia fill the walls. The aloha spirit and smiles emanate from everyone working there.
The "Today's Special" sign says "Naked Chefs and Wild Women" but we didn't see either! Just a bit of the island humor, I guess.
I couldn't resist starting with the special cocktail for the day, a Pina Kohala. Bamboo's version of a Pina Colada, this drink had pineapple, coconut, smooth dark rum, and a secret ingredient and tasted like a healthy smoothy.
So many things looked yummy on the lunch menu. Perhaps, a Caesar McNut Salad with local macadamias topped with fresh fish or shrimp or organic chicken.
Or maybe, the Kohala Quesadilla: a grilled flour tortilla with jalapeno jack cheese with a choice of Kalua pork, fish, shrimp, chicken, or veggies, rounded out with an organic green salad and tropical fresh fruit salad.
Or, The Bamboo Sliders: Mini versions of the three most popular sandwiches: a burger, teriyaki chicken and BBQ pork.
About this time, the hostess announced we would be treated to a couple of hula dances that told the story of the areas nearby. At the back and front of the restaurant, three beautiful, older ladies in muumuus danced skillfully as Hawaiian music accompanied them. More smiles and aloha vibes.
Luckily, after reading through the menu and finishing my Pina Kohala, I was delighted to solve the problem of what to order. Listed as a pupu for two or lunch for one, the Big Bamboozer is a sampling platter of the most popular appetizers. It included two Pot Stickers, two Thai Coconut Prawns, and two slices of Kalua Pork Quesadilla. A green salad and rice were also included.
The chicken potstickers were seasoned with herbs and peanuts then steamed. Bamboo's famous, spicy, sweet chili mint sauce provided just the right accompaniment.
The shrimp were served in a small bowl of a kicky Thai coconut sauce. Fresh papaya salsa was served on the side. The pork in the quesadilla was cooked in an imu (underground oven). Tender, smokey and tasty, combined with the cheese and drizzled with sour cream, this was my favorite of all.
My husband chose the barbecued baby back ribs. A half rack of ribs was smothered with the roasted pineapple barbeque sauce—sweet, yet tangy—another reminder of where we were. On the side, there was homemade tangy coleslaw and crispy seasoned waffle fries.
The dinner menu included most of the lunch selections and added more freshly-caught fish and heartier meat dishes. Some choices I'd go back for were:
A grass-fed charbroiled ribeye with a tangy lilikoi mustard glaze balanced by crispy goat cheese polenta.
The Kohala Cordon and Kalua in which Macadamia nut crusted organic chicken breasts are wrapped around smokey kalua pork and swiss cheese, then oven-baked until hot and juicy, and topped with the lilikoi mustard glaze.
You can enjoy great local slack key guitar music on Friday and Saturday nights.
Price Range: In general food in Hawaii is expensive. It is refreshing to see the prices here in the moderate range.
Lunch Starters are $6.75 for Eggrolls to $16.75 for the Big Bamboozer. Salads start at $7.75 and with fish or meat will cost $17.75. Entrees and sandwiches run $13.75-$23.50
For Dinner Entree Salads are $18-22. Fish and Meat Entrees are $22-$47 Several Fresh Fish Meals are Market Price.
Pinterest: Pin this to your favorite Hawaii planning boards and check it out on your next trip.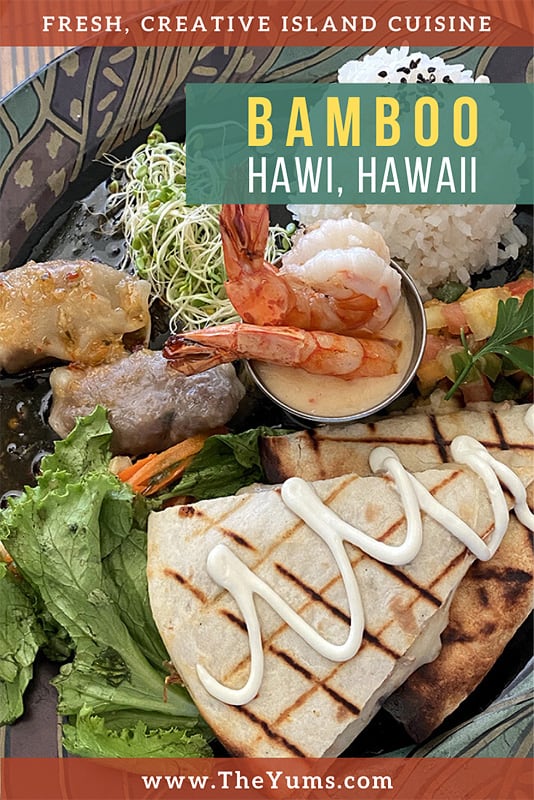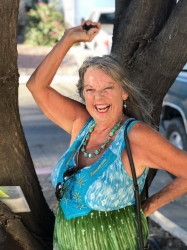 Latest posts by Joeann Fossland
(see all)