My favorite place to eat in Lima Peru is perched on a high bar stool in front of the open kitchen of Barra Lima watching the meticulous preparation of the Peruvian delights I am about to enjoy. I have been here many times and never cease to be amazed at the delicate presentation; and the best part is you can sit watching the chefs, tweezers in hand, creating.
Location: Av. Conquistadores 904 San Isidro, Lima 27 Lima, Peru
Menu: Barra Lima specializes in using traditional Peruvian ingredients and seafood dishes presented with a modern flair. The menus here are changed seasonally so there's always something new to enjoy.
Almuerzo– lunch is usually enjoyed by locals who choose traditional plates such as the ever-popular ceviche.
The "tasting menu" evening meal is Peru on a plate so is very popular with tourists. Ingredients are sourced from all over Peru, which is blessed with such a diverse climate and growing conditions. Many of the dishes also include varieties of the seaweeds that grow abundantly in the waters of southern Peru. The tasting menu consists of small portions where every dish is visually exciting, serving the delicate style and quality food you'd expect in a Michelin star restaurant (without the Michelin star price).
Thoughts: We have eaten here many times for lunch so we were excited to try the tasting menu. We requested a gluten-free menu. As someone who is gluten intolerant, I am usually faced with a limited menu. Normally if a dish contains gluten it is just immediately taken off my possibilities.
Not so at Barra Lima! For example: Choritos Selvaticos–Amazonian Mussels is normally served in an edible squid ink colored mejillones –mussel-shaped shells containing gluten. Because all the food is assembled just before eating, there was no hesitation. The same filling ingredients were simply served for me in a natural mejillon shell.
In a land that claims to grow between 3000 and 4000 varieties of potato, Peruvians love Causa. This is basically a mixture of mashed yellow potato and yellow chili formed into a roll around a protein, usually a fish. Barra Lima goes one step further with Causa Amazonia by adding fine shards of dehydrated sweet potato dotted with squid's ink making it look like some sort of weird sea urchin. This adds both a theatrical flair and the texture the mashed potato dish often lacks.
Razor clams served in their shells on hot stones were a surprise. We had eaten them cold in summer but this was a totally different dish for the change of season.
Another favorite was the Concha y Manzana–clam with apple served four ways. The freshness of this dish was almost like a palate cleanser. The sauce was a variation of the "tigers milk" basic to ceviche but with the addition of ginger and hazelnut steeped overnight. This sauce takes two days to make and is absolutely worth it!
Our server, Joshua, was so knowledgeable about the menu and the origins and history of the ingredients it made the experience all the more enjoyable.
Two tasting menus are available. We had the 8-course menu which also then has one postre – desert and an infusion. Every dish was exciting. Even though some dishes were only a mouthful or two, this was more than enough. We were replete.
There is also a 12-course menu.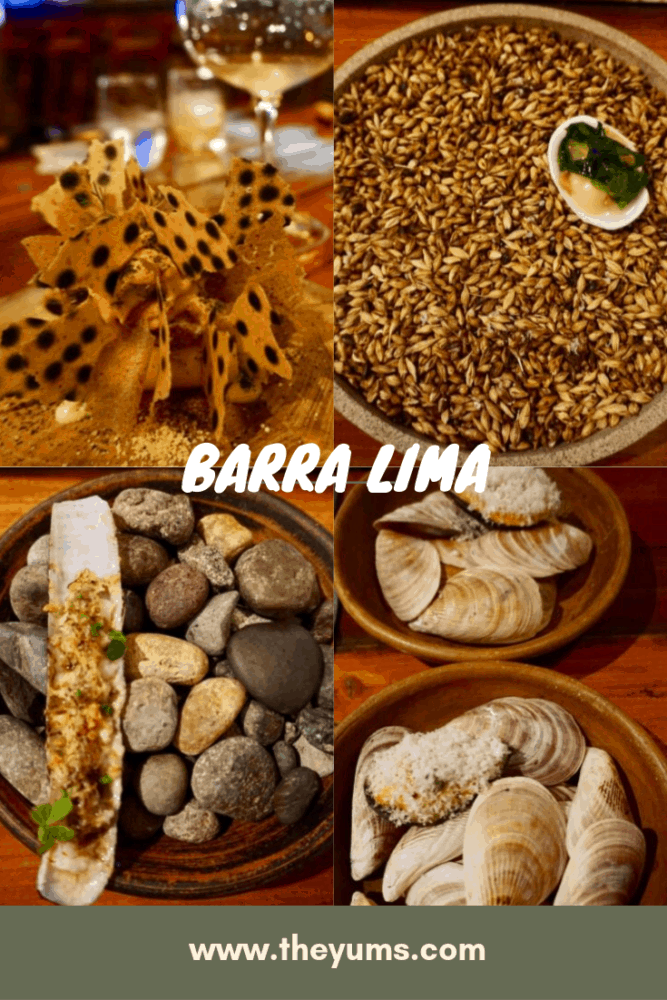 The meal was paired with Loma Negra Sauvignon Blanc and we finished with an infusion of warmed Malbec wine with a subtle hint of orange water, chamomile, passion fruit, vanilla, and lemongrass. This was like warm sangria, only better, and was a perfect ending to an overwhelming variety of delectable dishes.
This was not just going out for a meal. This was a thoroughly enjoyable dining experience.
Price Range: Starters: S/32–S/36, Cold Mains: S/35–S/42, Hot Mains: S/39–S/69, Deserts: S/25.
Disclosure: The author received a complimentary meal courtesy of Barra Lima
Guest Reviewer Bio: Kerrie-Anne Riles is an Australian freelance travel writer currently living in Peru. She has lived in seven different countries and travels extensively. Her travel writing includes traveling to unusual places and quirky travel experiences, luxury travel especially cruising and train trips, and gluten-free cooking and restaurants. You can follow her on Facebook

Latest posts by Guest Contributor
(see all)