The unique cuisine of New Mexico evolves from traditional Mexican dishes that have been transformed with local chiles into tasty and fiery hot fare. Add sopapillas and margaritas and you will feel you have been transported to a family restaurant in an old town square. At El Patron, you'll want to linger and enjoy not just the food, but the atmosphere.
Location: 8100 Wyoming Blvd NE, Albuquerque, New Mexico. Website here.
Menu: Authentic fresh New Mexican food including all the expected traditional items like hearty carne adovada, spicy chile – red or green, chile rellenos, tacos, enchiladas, tamales, and fajitas are on the menu.
With so many New Mexican food options, it would be hard to believe you'd want something else. However, if you do, there are grilled USDA choice steaks and several types of fresh seafood.
Desserts are made in house: traditional flan and natilla, or cakes, pies, sorbets and ice cream for your sweet tooth.
Brunch is served daily with lighter fare. On Sunday, enjoy drink specials along with an expanded special brunch menu.
Thoughts: High wood-beamed ceilings, arches, and cream-colored plaster walls adorned with niches and western art in the large dining room exude a rustic feel. The mariachi music in the background matches the mood of the surroundings. Comfortable booths fill the room.
A good friend who lives here in Albuquerque brought my husband and me here to taste real New Mexican cooking. We weren't seated long before our waiter brought thin, crisp, freshly made chips and two salsas, one very hot and one milder. In lieu of bread, a basket of puffy golden brown pillows of fried dough called sopapillas was served, along with honey, balancing the fire in the salsa.
Tequila is the perfect accompaniment to New Mexican food and El Patron has seven specialty margaritas on the menu. Their Casa de Patron Margarita was awarded Best Margarita by Albuquerque The Magazine, so that was our choice. The full bar has an assortment of specialty cocktails, beers and wine as well.
Sipping on margaritas, munching chips with the hot salsa, we read over all the selections. We added some guacamole to complement the endless chips and salsa. We took our time, enjoying the company and appetizers. Even though the restaurant was filling up, we never felt rushed.
[amalinkspro type="showcase" asin="B00OQNJE6S" associate-id="theyums-20″ new-window="1″ addtocart="0″ nofollow="1″ sc-id="4″ imgs="LargeImage" link-imgs="false" stack-imgs="false" specs="Himalayan Salt Shot Glasses, Set of 4 All-Natural FDA Approved 3 Pink Salt Glasses -Tequila Shot Glasses~~~FDA approved and all natural, hand carved~~~Naturally adds salt flavor to your shots~~~Naturally resists the growth of bacteria~~~Wipe clean and store in a cool, dry place" btn-color="#ff9900″ btn-text="View on Amazon" alignment="alignnone" hide-prime="0″ hide-image="0″ hide-reviews="0″ hide-price="1″]Himalayan Salt Shot Glasses, Set of 4 All-Natural FDA Approved 3″ Pink Salt Glasses -Tequila Shot Glasses[/amalinkspro]
The menu offers pages of choices. The combination plates, tacos, and enchiladas include pinto beans and Spanish rice. You don't find Stuffed Sopalillas in just any Mexican restaurant and here there are nine different kinds with combinations of meat, cheese or beans.
I couldn't resist the lamb tacos special. These were not ordinary tacos. The three corn taco shells were stuffed not only with marinated, roasted lamb chunks and onions but with chunks of spicy, grilled potatoes. Avocado slices topped each one; each bite contained sensuous tastes. A mixed salad rounded out my meal.
My husband chose the Carne Adovada Plate filled with pork marinated in red chili and then smothered with cheese. Grilled potatoes and flour tortillas made for a full plate and a hearty meal.
My friend chose the #3 Combination Plate that included rice and beans. A lightly fried chile relleno stuffed with Jalepeño Jack cheese, a cheese enchilada, and a marinated pork tamale were all covered with chile and cheese. It was so much food, she got a to-go container.
If you come really hungry (or decide you want to split a plate), the #6 Combination Plate is the ultimate in variety. It includes a chile relleno, a pork tamale, a cheese enchilada, a beef or chicken taco, and carne adovada, topped with chili and cheese, as well as rice, beans, and flour tortillas.
The array of homemade desserts looked appealing but, unfortunately, we didn't save room for dessert. The sopapillas and honey we ate were like having dessert with every course. Sopapillas are one of the unique foods I love when eating when in New Mexico.
Price Range: Appetizers range from $2-11. Soups, salads, and chile are $4-14. Dinners are $10-26
Happy Hours pricing is $3-5 for small plates and $3-7.50 for beer wine and margaritas.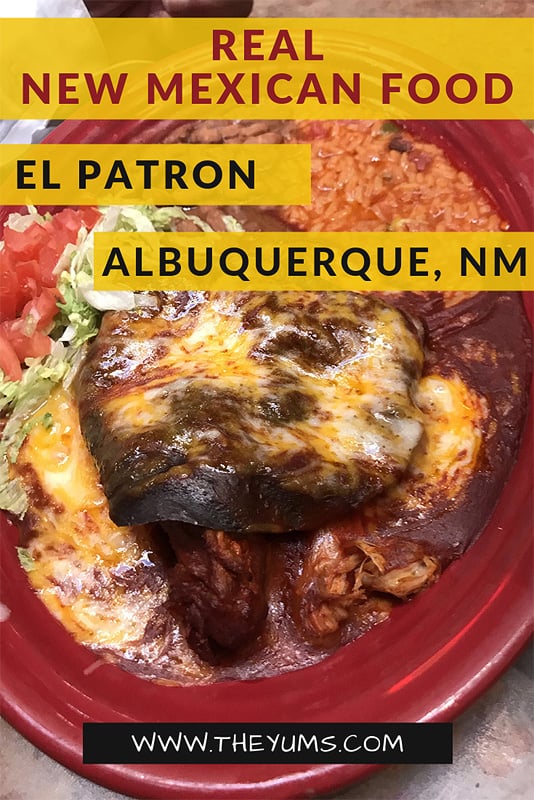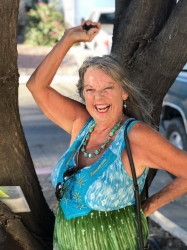 Latest posts by Joeann Fossland
(see all)