Villa Capri adds a touch of elegance to fine Italian dining. Their entries are generous and taste like you are in Italy eating in great-grandma's kitchen enjoying her authentic recipes from her tattered and worn recipe book.
Location: 101 East Second Avenue, Altoona, Pennsylvania. Website here.
Menu: Villa Capri's Italian menu features Gnocchi, Ravioli, Lasagna, and other kinds of pasta. Eggplant, veal, chicken, seafood and other fish round out their offerings.
They are known for their Vodka sauce, spaghetti dishes and their wide variety of pasta. Just to give you an idea of the variety, they have seven different kinds of Ravioli and 19 varieties of pasta dishes.
Most meals are served with a portion of pasta. If not included as part of the entree, a side of your choice of Spaghetti, Angel Hair, Rigatoni, Fettucine, or Linguine is included in the cost of your meal. Gluten-Free Penne is available for an extra fee.
Every meal includes soup or salad. Their soups are Tortellini and Wedding Soup, and they often have a third soup offering.
Thoughts: As you enter Villa Capri, you know you are entering someplace special. It has an Italian homey vibe along with a touch of elegance. Once inside you are greeted by a hostess who seats you in one of the two dining areas. Most of the tables are for two or four people, with only a few larger tables. They can accommodate larger groups upon request. (I've been there with a group of 21 in the past with no issues.)
Our group of five was seated in the smaller more intimate dining area. Our server took our drink orders and returned with our beverages and a plate of hot steaming garlic rolls covered in parmesan cheese. (If you don't care for garlic or cheese, they will bring plain rolls.) Soft drinks, water, and complimentary glasses of wine are served with dinner, or you can bring your own wine with no corkage fee.
Appetizers include delicious choices like Bruschetta, Mozzarella Fritta, and Mussels Marinara. We had visited before and knew the portions would be large so we skipped the appetizers.
Everyone in our party ordered something different. My mom had the Wild Mushroom Ravioli served in a zesty tomato sauce. She said the ravioli filled with tender mushrooms melted in her mouth.
My son ordered Michael's Chicken, a tantalizing mix of boneless chicken, tender asparagus, crisp green peppers, and plump tomatoes sauteed in a lemon butter white wine sauce served over linguini pasta.
His girlfriend ordered the Gnocchi in Vodka Sauce. It consisted of pillowy tender dumpling-like bites of potato and cheese gnocchi pasta in a creamy, tomato garlic vodka sauce. She commented, "The sauce had a rich, sweet and savory flavor and was velvety smooth."
My husband had the Filet of Sole stuffed with crab meat and scallops. It was drizzled with a buttery garlic lime sauce and was served with seasoned steamed cauliflower, broccoli, and carrots and a house salad. He reported, "The fish texture was perfect, tender and flaky but not overdone."
I had the classic Italian Chicken Cacciatore, skinless chicken breasts sauteed with mushrooms, and green peppers, in a succulent, rich and rustic marinara sauce served over spaghetti. My entree came with a crisp garden salad.
We also enjoyed the complimentary glass of wine served with our meal.
All portions are generous and served on plates the size of a small meat platter. They provided take-home boxes for those who could not finish their meals.
Sitting near us, a group of seven were enjoying dinner. They brought their own wine and in talking we learned they were regulars at Villa Capri, eating there several times per month. They told us they had tried a lot of different things on the menu and there was nothing they didn't enjoy. Villa Capri is their go-to place for Italian food in the area.
Villa Capri is the real deal when it comes to Italian food – you will not go away hungry!
Note: Villa Capri takes reservations for birthdays, baptisms, weddings, and large parties, etc. They also serve family-style dinners upon request.
Cost: Appetizers start at $7.95, salads at $6, entrees start at $13.95. Children's menu items are available for $6.95.
For Pinterest: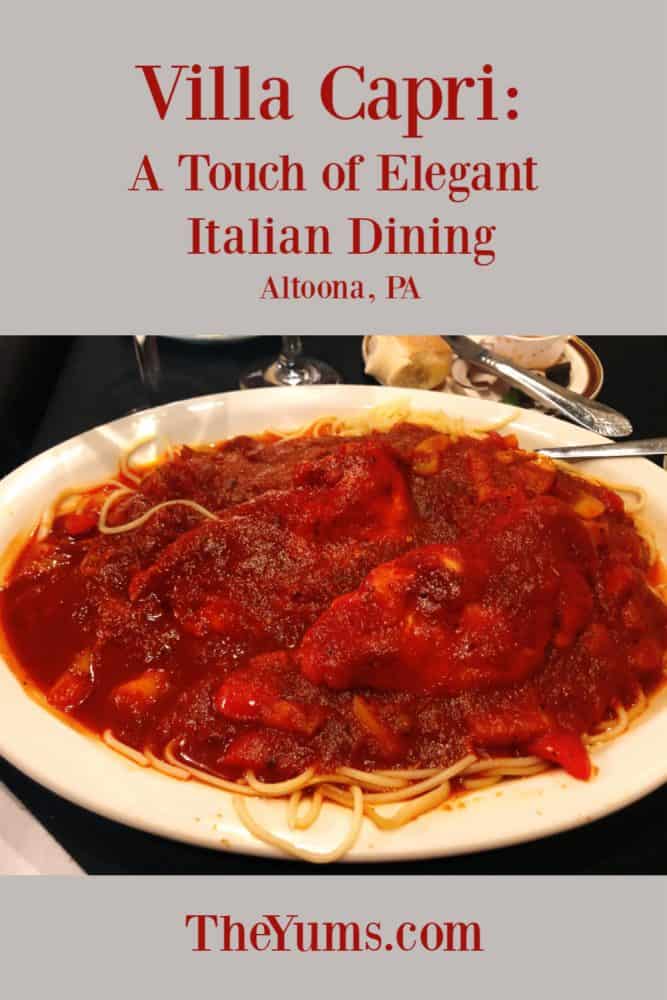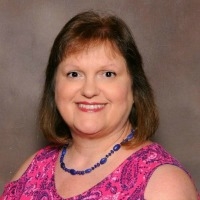 Latest posts by Robin Smith
(see all)